Scholastic Half-Blood Prince Booth at Comic-Con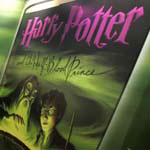 Jun 29, 2005
Uncategorized

Scholastic, the US Publishers of the Harry Potter books, have announced that they will be present for the first time at Comic-Con International. The convention takes place July 14th through the 17th in San Diego, California, which is during the release weekend for the sixth Potter book. Fans who are attending the convention will not miss out on the excitement of the release, for Scholastic will be handing out Half-Blood Prince related items for lucky convention attendees.
Finally, this year's Comic-Con International magically coincides with the nationwide release of J.K. Rowling's Harry Potter and the Half-Blood Prince on July 16. To celebrate the book's release, Scholastic has planned a series of giveaways throughout the convention-everything from pens to tattoos. From 6:00 p.m. to 7:00 p.m. on Saturday, July 16 Scholastic will hold a Harry Potter and the Half-Blood Prince booth celebration for all young Comic-Con attendees.
Also, Warner Bros will be promoting the Harry Potter and the Goblet of Fire film during the convention as well. If anyone is going to attend, please send in your reports and photos from what looks to be a fun event.