Bloomsbury HBP Cub Reporter Announced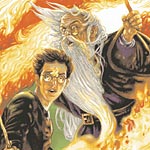 Jun 30, 2005
Uncategorized
Bloomsbury has announced its cub reporter, who will travel to Scotland to meet and be part of a press conference with Jo Rowling on publication weekend; Vhari Leishman won with the following entry:
"I've just spent a whole day of my exam leave – note I said spent, not wasted – trying to think of something witty to say in under fifty words. I belong to the Harry Potter generation. Before the fame, the movies and the merchandise came us, reading the books before bedtime."
The runners-up are listed at the site. Thanks to HarryLatino!