HBP at Book Expo America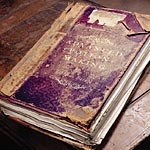 Jun 06, 2005
Uncategorized
Thanks to reader Michael, for bringing us pics of the Half-Blood Prince exhibit at this weekend's Book Expo America.
"Who is the Half-Blood Prince?" – featuring a mock up of what the finished book will look like
"42 days left"
We remind to link here instead of reuploading, yadda yadda. Enjoy!