Amazon.com Assembling Kids' HP Review Panel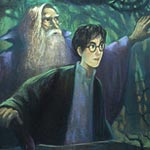 Jun 08, 2005
Uncategorized
Amazon.com has let us know about a new contest it's running, the "Harry Potter Review Panel Contest," in which winners are part of a kids panel to talk about Harry Potter via the Amazon site.
The panel will share its HP expertise as well as their predictions and expectations for HBP. They will also possibly participate in print and broadcast media interviews, in addition to being featured on Amazon; a spokesperson has also told us that the panel will remain functioning after the book is released, and the organizers are looking into this panel's reporting on book six.
Kids under the age of 18 who have read the first five books may enter by submitting a 1-3 minute digital video directly on the Amazon.com Web site. You must fill out a form and have the entry in no later than 11:59 p.m. PDT on Saturday, June 18, 2005.
The video should include:
Why the entrant loves HP
What his or her favorite moments from the series are
Why the entrant is a Harry Potter expert
What he or she is hopingwill happen in Harry Potter and the Half-Blood Prince
Panel members will be announced on June 27. This competition has been added to our HBP contests page.
Further info and a complete list of rules and regulations are here
.