J.K.Rowling to do TV Interview with Cub Reporter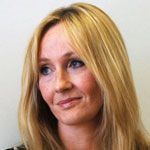 Jun 08, 2005
Uncategorized
ITV has now launched their version of the Ultimate Harry Potter Fan contest. Children between the ages of 8 and 16 are allowed to enter for this chance to not only attend the midnight launch party in Edinburgh of Half-Blood Prince, but also to interview author J.K. Rowling on television.
Initial's series producer for the TV shows, Katherine Allen, says: "This is a fantastic opportunity for a true Harry Potter fan to meet their heroine and find out the answers to questions that they've always wanted to ask her."

As well as putting their skills and knowledge to the test in the TV quest, they will also be one of only 70 children to attend the reading of Harry Potter and the Half-Blood Prince. And the icing on the cake will be the chance to meet JK Rowling and interview her face to face.

"It's a TV interview that everyone wants but only one child in the UK will actually get! We will give them all the training and help they need to ensure it's a must-see TV event and with their love of all things Harry Potter we are sure they will have dozens of burning questions to put to the author."
You can enter online, here, or submit your entry by mail(Harry Potter Fan, PO BOX 54216, London W14 0SQ), and answer the following questions:
1.What makes you the ultimate Harry Potter fan? ( in no more than 80 words)
2.Write one question you are desperate to ask JK Rowling?
3.In one sentence which parent or guardian would you want to help you with your quest and why?
Bloomsbury's Harry Potter site lists these programs which are to be television in conjunction with the midnight launch of Book 6
The HARRY POTTER AT THE CASTLE programmes, being made by Initial for ITV1, are:
Programme 1 – HARRY POTTER AT THE CASTLE: THE QUEST FOR THE ULTIMATE HARRY POTTER FAN
Programme 2 – HARRY POTTER AT THE CASTLE: MAGIC AT MIDNIGHT
Programme 3 – HARRY POTTER AT THE CASTLE: THE JK ROWLING INTERVIEW
All entries must be submitted by June 17th. Good Luck!
Thanks to the many readers who sent this in!