Scholastic:Final Stages of Delivery of Half-Blood Prince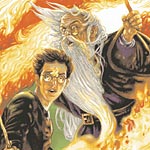 Jul 01, 2005
Uncategorized

Beep Beep! 600 trucks full of Harry Potter books coming through! Scholastic, the US Publishers of the Harry Potter novels announced today that the company was in the final stages of shipping 10.8 million copies of Harry Potter and the Half-Blood Prince to retailers. They also said that they " shipped over 5.5 million
temporary tattoos for stores to give away and 40,000 Harry Potter and
the Half-Blood Prince five-foot tall countdown clock standees were sent to retailers across the country. The Jumbotron in New York's Times Square will serve as the official countdown clock on July 15."
They mention that they also a have a section to look for midnight release parties. Our own PotterParties.com site has over 1600 release parties from around the world listed as well.
Oh yes, they mentioned one extra thing you might like as well."NEVER BEFORE SEEN FOOTAGE OF HARRY POTTER AND THE HALF-BLOOD PRINCE BOOK BEING PRINTED, PACKAGED AND SHIPPED BY SCHOLASTIC, THE U.S. PUBLISHER."

We are trying to get this video, and will post it as soon as possible. Only 14 more days everyone!