Barnes and Noble: One Million Books Ordered; to Broadcast Edinburgh Reading on Web Site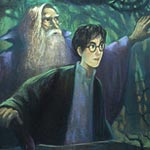 Jul 11, 2005
Uncategorized
More than a million HBPs have been ordered at BN.com, making it "the bestselling pre-order book of all time." Also, BN.com will be showing a taped broadcast of the J.K. Rowling reading from Edinburgh Castle; it will also be shown at the Union Square, NYC party where Jim Dale will be reading.
The press release mentions that in preparation for these parties, Barnes & Noble has:
Purchased one million commemorative Harry Potter bracelets.
Printed one million in-store posters.
Purchased one million pairs of Harry Potter glasses.
Inked one million temporary lightning bolt tattoos.
Plucked 370,000 feathers.
Rounded up numerous live owls, snakes and magical critters.
And at their Midnight Magic parties, they expect:
375,000 magic wands to be made.
250,000 children to take home a photo of themselves with Harry Potter.
100,000 chocolate chip cookies to be sold.
Sounds like fun!