More Pre-Screening Reviews of GoF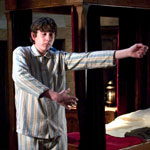 Jul 11, 2005
Uncategorized
We're taking another break from book news to showcase a few more reviews of Goblet of Fire; you can now find three on Aint It Cool News. The reviews, like the one we reported on yesterday contain spoilers for GoF as a film, so don't click if you're trying to avoid all spoilers for the film. Non-spoilery comments include praise for Brendan Gleeson, who plays Mad-Eye Moody, Ralph Fiennes as Voldemort and Miranda Richardson as Rita Skeeter.
Daniel Radcliffe, Emma Watson, and Rupert Grint (Harry, Hermione, and Ron) have definitely come into their own and improved as actors. It is very clear in this movie as they have to emote more than they have ever had to. It is truly astonishing to watch.
NOTE: Ain't It Cool reviews may contain somewhat colorful language. Please be aware if you're an adult, and please check with a parent or guardian before reading if you're a minor.