ADMIN: BOOK SPOILERS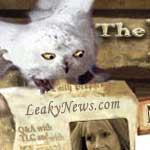 Jul 12, 2005
Uncategorized
We've had several posts in the comments section and on Leaky Lounge that contain spoilers or that link to web pages that contain spoilers. We've disabled comments to issue this official warning – STOP. Posting ANY spoilers here is utterly disrespectful of Jo Rowling, the publishers, your fellow readers, and the people who run Leaky (we certainly don't want to be spoiled three days from the book after having waited two years for it!). When we re-enable comments, we will enforce a zero-tolerance policy – if you post a spoiler, be it here, in Leaky Lounge, or in the Chamber of Chat, you will be banned from this site. To re-state our spoiler policy here at Leaky:
If it comes from official sources (JKR, publishers, PR agents, agents), it will be posted here but behind links so that you can avoid being spoiled. If it comes from another source, we will not post.
Please be aware that while we are working to remove any comments or posts that contain spoilers, they may still exist – click and read carefully.