Poll of the Day: Lurking in the Chamber of Secrets?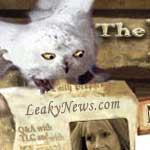 Jul 12, 2005
Uncategorized
Does the Chamber of Secrets hold any more secrets? Could there be things still lurking down in that mysterious place? If you think that it's possible, be sure to check out our new poll of the day about the Chamber of Secrets in the lounge.
Yesterday's poll about who will be the next Gryffindor Quidditch Captain is now closed. The results? Harry Potter narrowly won out over close second Katie Bell. There will be a new poll everyday in our forum until release day. Be sure to check it out!