Arthur Levine, Magical Editor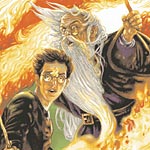 Jul 14, 2005
Uncategorized
The Baltimore Sun has written a very good profile about the editor of the US editions of the Harry Potter books, Arthur Levine. The story of how he bought the U.S. rights to the books for quite a bargin is mentioned, but the items of interest are about his working relationship with author JKRowling of whom he says "I believed in Jo before she was famous," he says. "The way I respond to her books has not changed; it's all about the writing and the characters." The article goes on to detail their method of editing the beloved Harry Potter books. Of working with Jo he notes:
"Her process is to work very, very hard for a long time before she sends me the manuscript," he says. "At the point at which she's ready to send it to me, it's pretty polished. She's almost always aware of what she's doing and why. She rarely does anything unconsciously. She's a secure writer, very confident."

After studying the manuscript, Levine and Emma Matthewson, Rowling's British editor, confer in person or over the phone. Then, they write a joint letter to Rowling outlining their responses. So considered and thoughtful is this letter that Levine describes it almost as though it were a gourmet meal that had been painstakingly planned over a period of weeks.
Mr. Levine also addresses some criticisms that were bandied about regarding Order of the Phoenix.
Understandably, nothing stings Levine more than the accusation that a book was under-edited – a charge leveled by some reviewers about the fifth novel in Rowling's saga, Harry Potter and the Order of the Phoenix.

At 870 pages, it is the longest novel in the series by 150 pages. It was published amid rumors that Rowling had writer's block, had missed two deadlines and that her publishers rushed the newest installment into print.

And it is a charge that Levine emphatically denies.

"The book was edited carefully, and Jo was open to the process of editing," he says. "If anything, we took extra precautions because we knew that it was a book that millions of people would read and that would be around forever."