USA Today Feature Series on Harry Potter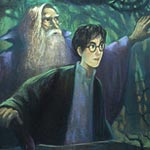 Jul 14, 2005
Uncategorized
With the release of Harry Potter and the Half-Blood Prince so close now, the USA Today newspaper has a feature section up all about the boy wizard and the books. There are numerous articles included in this feature, which you can see here. Our own managing editor Melissa Anelli was interviewed about the hidden clues or possible hints to the new story found on the cover art for both the UK and US editions of Half-Blood Prince. Her interpretations ?
* Because neither Harry nor Dumbledore is carrying a wand, despite the knife in the tree, they don't feel they're in danger. "It could be a memory they're walking through, or some other sort of magical destination," Anelli says.

* Because Harry is in nightclothes, perhaps something urgent has happened in the middle of the night. "Harry's hand rests on a branch or some sort of structure, and there's wood blocking the front of him," Anelli says. "He seems to be on a bridge or at some sort of crossing point."

The covers of all editions, she adds, "seem to show Dumbledore guiding, leading, fighting alongside and acting as a mentor to Harry, something fans missed dearly in book five, where Dumbledore purposefully shunned Harry to protect him. Dumbledore has a lot of knowledge and wisdom to give before Harry does what we all expect he will do in book seven — defeat Voldemort — and it seems he's going to get that in this book."
The set of articles for this feature on Harry Potter also stories on the release parties, rumours, fan anticipation, a glossary of terms from the books, as well as a summary of the first five books. Check it out here!
PLEASE NOTE: This post links to the feature on Harry Potter. However, on their website, the USA Today also has their own article (not part of this main Potter feature)about the two men in Indianapolis who bought the HPB book early( see earlier post) There is a possible spoiler at that link. YOU ARE CAUTIONED.