First Wire Reports, Photos of JKR at Midnight Release Party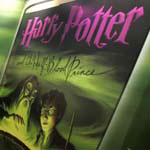 Jul 15, 2005
Uncategorized
The first wire reports are starting to come out now, with more details of our favorite author at her special midnight release party in Edinburgh, Scotland. This reports quotes JKR as saying:
Excited, I am excited," Rowling, 39, dressed in a black dress and black jacket, told a group of reporters as she was ushered along a red carpet, stretching to the castle.

"There are a lot of answers in this book," she said, above the noise of the crowd, packed into chairs and behind barriers.

"I can't wait for everyone to read it," she said, adding that she had left a copy of the book with her daughter.

"When I left her she was laughing at something," Rowling added.
UPDATE: PHOTOS NOW UP HERE
We will continue to update you with more all night long,including reports from our own Melissa Anelli.