New York Times Reviews Half-Blood Prince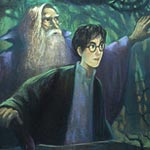 Jul 16, 2005
Uncategorized
It's here; Harry Potter and the Half-Blood Prince is officially released, and the first of the reviews has now been published. In a hugely spoiler-ific article, the New York Times calls this "the darkest and most unsettling installment yet."
Harry still has his wry sense of humor and a plucky boyish heart, but as in the last volume ("Harry Potter and the Order of the Phoenix"), he is more Henry V than Prince Hal, more King Arthur than the young Wart. He has emerged, at school and on the Quidditch field, as an unquestioned leader: someone who must learn to make unpopular decisions and control his impetuous temper, someone who must keep certain secrets from his schoolmates and teachers.
Throughout the article, the reviewer continues to caution that this novel is indeed a darker book saying "it grows progressively more somber, eventually becoming positively Miltonian in its darkness, even suggesting the ending scenes "may well be too alarming for the youngest readers."
While dark it may be, the review also notes that during the course of Harry Potter and the Half-Blood Prince "it suffers, at moments, from an excess of exposition. Some of Dumbledore's speeches to Harry have a forced, summing-up quality, and the reader can occasionally feel Ms. Rowling methodically setting the stage for developments to come…"
That being said, the review is mostly favorable, praising J.K. Rowling's work.
"… the suspense generated by these books does not stem solely from the tension of wondering who will die next or how one or another mystery will be solved. It stems, as well, from Ms. Rowling's dexterity in creating a character-driven tale, a story in which a person's choices determine the map of his or her life – a story that creates a hunger to know more about these people who have become so palpably real.

Indeed, the achievement of the Potter books is the same as that of the great classics of children's literature, from the Oz novels to "The Lord of the Rings": the creation of a richly imagined and utterly singular world, as detailed, as improbable and as mortal as our own.
PLEASE NOTE: MULTIPLE AND HUGE SPOILERS IN REVIEW