THE INTERVIEW with J.K. Rowling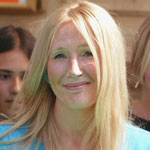 Jul 19, 2005
Uncategorized
Emerson of MuggleNet and I are in various stages of travel and consciousness, so we have two bits for you right now: our reports of the weekend up to the moment we opened our books, and the first snip of the interview with Jo Rowling, which is very short compared to what's coming on Wednesday and Friday. This is because time is incredibly short with us right now, and we want to make the transcript perfect, so we are taking extra time to pore over it before posting.
Thanks for your patience, and we hope you enjoy. Click the links below!
THE INTERVIEW : Part One
Launch Weekend: Part one
Update: The Launch Weekend report now has some pics.