JKRowling.com Updates on Half-Blood Prince Release Weekend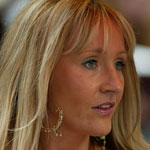 Jul 21, 2005
Uncategorized
JKRowling has updated her website with thoughts about the Half-Blood Prince release weekend. Her news section, and the extras section both have been updated,including her reactions to meeting our own Melissa and Emerson from MuggleNet.
And there they were, waiting for me. I had met Melissa twice before, though each time for no longer than it took to squeak excitedly at each other; she is (for those of you who don't know) a good-looking redhead who shares my taste in both coffee and shoes (she presented me with some truly ambrosial coffee, available only in the States, and I openly coveted her faux-snakeskin heels). Emerson is about seven feet tall (or that's how he looked from my 5′ 5″) and has extraordinarily long, very blue eyes; he, too, had brought presents, including a key representing the freedom of LaPorte, Indiana, accompanied by a proclamation signed by the Mayor. No, not kidding. 'Well, it's hard trying to think of stuff you can't buy for yourself,' he said as I gazed at these items, dumbstruck.
Part three of their interview with JKR will be posted tomorrow.
Edit: She also tossed a few rumours in the rubbish bin, especially addressing one about her supposedly not liking being seen as a children's author. She writes:
Absolute garbage! I have said many times that if I remain a children's author forever (which I may well do) I will never see this as being a lesser, easier or less 'serious' career than writing for adults. Whenever I have discussed the possibility of writing adult fiction, it has nearly always been because an interviewer has asked 'might you one day write a book for adults?'