8-Days-to-HBP Poll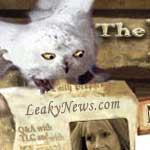 Jul 07, 2005
Uncategorized
We'll be posting news as regular today, so as to not let hard-hearted people disrupt the lives they seek to disrupt.
Our 8-days-to-go poll is up at the Lounge, and asks whether Harry would use an Unforgivable, and which one.
Yesterday's poll, concerning what object Arthur Weasley might enchant that might later come in useful, is now closed. Sirius' motorbike came in first with 26.93% of the vote; somehow, underwear got 16.37%, and finally, gum wrappers received 13.31% of the total votes.