Harry Potter Books Magical Influence on Children's Literacy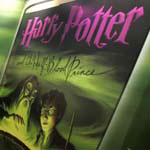 Jul 09, 2005
The Scotsman is reporting about some new research that was conducted in the UK about the influence of the Harry Potter books on children's literacy. A result of this research by The Federation of Children's Book Groups shows that reading the Potter books have proven very beneficial to children's reading abilities.
"Almost six out of 10 children (59%) think the books have helped them improve their reading skills. And 48% say Rowling's creation is the reason they read more.

Teachers are even clearer about the effect Rowling's series of books, the sixth of which will be released this week, have had on reading: 84% say Harry Potter has helped improve child literacy and 67% claimed the series has turned non-readers into readers."
The teachers who interviewed were all enthusiastic about the Potter books and effect they have on students reading abilities, including one professor who contributed to the research.
Colin Harrison, professor of literacy studies at the University of Nottingham, who contributed to the research, said: "The sheer pervasiveness of JK Rowling's books means Harry Potter will certainly have impacted on children's literacy levels.

"Reading and re-reading books is very valuable in building fluency, and there is a strong link between reading books for pleasure and improvement in word recognition and comprehension."