Menu and More for Edinburgh HBP Release Party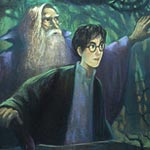 Jul 09, 2005
Uncategorized
Earlier this week, we reported on some of the details of the special midnight party in Edinburgh, Scotland for Half-Blood Prince release, and now The Times has some additional information about this magical event.
After arriving in 12 carriages "drawn by black horses adorned with black ostrich plumes and driven by coachmen dressed in capes," the lucky cub contest winners will be given copies of the new book, and hear a reading of the first chapter from the author herself, J.K. Rowling.
If possible, things will become even more wonderful as the next night all the children will be officially sorted into one of the four Houses of Hogwarts, then they will enjoy a feast at Hogwart-style tables, complete with golden platters for their food.
The banquet will take place in the castle's Jacobite Room, which has been hired at a cost of more than £500 an hour and will be decorated with school banners and illuminated with torches. The food for the Hogwarts-style banquet has been devised by Digby Trout, Edinburgh Castle's caterers, whose basic menu starts at £39 a head.

As well as creating tuck shop favourites such as pumpkin pasties, chocolate frogs and Bertie Bott's Every Flavour Beans, the caterers have also developed their own recipe for butter beer. The non-alcoholic mulled cider is first drunk by Harry in the third book in the series and is described by Rowling as tasting "a little bit like less sickly butterscotch."

The platters will be piled high with meats, including chicken, chops and sausages, all the trimmings, desserts and mint humbugs in a feast reminiscent of the first meal that Harry eats on his arrival at the school.
Noting that J.K. Rowling has been involved every stage of planning this wonderful event, the manager of the restaurant providing the food for the banquet says "Everything we serve will be along a Hogwarts theme- we've even had to create a few new recipes," she said. "Everyone here has used it as an excuse to reread all the books."
Our own Melissa Anelli (along with Emerson from MuggleNet) will be there in Edinburgh the entire weekend of this event,and along with what will surely be an amazing interview with Jo, will bring all the glorious details back for us to share. Can't wait!
size="-1″>Note: Our comments are temporarily disabled to save the server from im- or exploding. Please visit the Daily Prophet Offices section of Leaky Lounge to discuss news.