Rumor: Helen McCrory to play Bellatrix?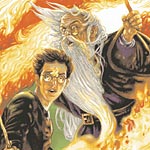 Aug 01, 2005
Uncategorized
Grace from RGMS.org let us know that a UK paper, The Mirror, is reporting tonight that actress Helen McCrory " has been lined up to play evil Bellatrix Lestrange in the next Harry Potter film."
A source revealed: "The producers are trying to keep the cast a secret until it's all sealed. But they are really keen on Helen. "They think she has the gravitas and looks to pull off the part of Bellatrix."
Helen McCrory appeared in the film Charlotte Gray with Cate Blanchette and Sir Michael Gambon (Albus Dumbledore) as well as Charles II with Harry Potter film actors actors Sean Biggerstaff, Christian Coulson, and Shirley Henderson. You can see a photo of Helen here. We are trying to confirm this possible casting for Order of the Phoenix with WB; until then please consider this very much a rumor until confirmation. We will update you with more as soon as possible.
Thanks very much Grace!