Harry Potter a Hit at Guantanamo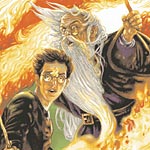 Aug 10, 2005
Uncategorized
Reuters recently reported that Harry Potter is a top choice at the U.S. prison at Guantanamo Bay, Cuba.
"Harry Potter is a popular title among some of the detainee population," said the librarian, a civilian contractor identified only as "Lorie" who works at the prison camp for foreign terrorism suspects at the U.S. naval base in Cuba.
Lorie said the popularity of the best-selling Harry Potter books, which recount the adventures of a boy wizard as he triumphs over the powers of evil, was matched only by the prisoners' passion for Agatha Christie, some of whose murder mysteries are set in the Middle East."
Most of the prisoners at Guantanamo are from Afghanistan and Arab states, the report says. The library has the first four HP books, in English, French, Farsi and Russian, and has ordered an Arabic version.