Entertainment Weekly's Fall Movie Guide and Goblet Preview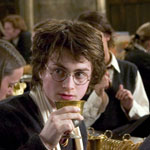 Aug 11, 2005
Uncategorized
The new issue of Entertainment Weekly (out tomorrow) will contain their fall movie previews, and includes a look at Harry Potter and the Goblet of Fire. There are small new quotes from director Mike Newell, producer David Heyman, and actor Michael Gambon. The preview reads:
" WE BEGIN WITH A SPOILER ALERT, BECAUSE even though it seems everyone in the world has bought a Harry Potter book, it would be rude to assume that everyone has read all of them and therefore may not want to know that in Warner Bros.'adaptation of J.K. Rowling's fourth novel, the teenage mage grows an unfashionably large handlebar mustache.

Okay, that doesn't happen. But what can we say about Goblet of Fire? "Well…I do a lot more running around than I did in the last one," says Gambon, back again as dear old Professor Dumbledore.

Actually, everyone is running around a lot more than they did in Prisoner of Azkaban. Practically double the size of any Potter tome before it, and certainly more action packed, Fire chronicles Harry's participation in a wizarding tournament–while he's simultaneously unraveling a sinister conspiracy,discovering girls, and dodging creepy glances from a spooky new teacher named "Mad-Eye" Moody (Gleeson). It's so epic, the studio considered splitting the story between two films. But Azkaban director Alfonso Cuaron, who took a more freewheeling adaptation approach, persuaded them to reconsider, even at the expense of cutting content. "He taught us you could really depart from the book in many ways," says producer David Heyman. "Alfonso always felt the ideas in Fire could only support one movie. The studio agreed."

Thus, Hermione's attempts to liberate Hogwarts'indentured house elves–poof! Gone. Fortunately, most of the book's memorable sequences have survived, including the World Cup of Quidditch match that opens the film and the grotesque rebirth of the nefarious Lord Voldemort (Fiennes) that closes it. It all sounds very Steven Spielberg, though Newell tackled the material by asking What Would Hitchcock Do? "It's a bit like North by Northwest," says the director. "Cary Grant is the happy advertising guy…but that evil James Mason has plans for him." (FYI, in this equation, Grant is the one with the handlebar mustache.)NOV. 18 "
UPDATE: The article is now online at the EW website and contains a new photo from the film. This photo is of Mad-eye, Harry, Dumbledore, Karkaroff, Fleur, Cedric, and Barty Crouch. To view, click here.
There is also a small article about the Harry and the Potters band, which you can read below. The new issue of Entertainment Weekly hits news stands tomorrow.
HEADLINE: Rock & Rowling;
FILE UNDER EXTREME POTTERMANIA
BYLINE: Michelle Kung
BODY:
If Hogwarts had a school band, it might look and sound a wee bit
like Harry and the Potters. Started as a joke three years ago, the Norwood, Mass.-based rock group–consisting of Paul DeGeorge, 26, and brother Joe, 18–has self-released two albums of punkish, Potter-inspired songs and is currently touring some of the country's finer bookstores, doughnut shops, and hot dog jamborees. "Our biggest goal was to play a show at the Boston Public Library, but we accomplished that within two months of forming the band," says Paul, who
's presently fine-tuning a song about Hogwarts headmaster Dumbledore,
based on J.K. Rowling's new best-seller, Harry Potter and the Half-Blood Prince. (Other high-demand songs include "Save Ginny Weasley" and "The Wrath of Hermione.")
"This is going to be the toughest book yet to write songs for," says
Paul, a guitarist and classically trained pianist, "because we try to make our songs fun and there's nothing fun about book 6."
Finding a rhyme for horcrux is difficult enough. A tougher challenge for the DeGeorges will be keeping in touch this fall, when Joe starts at Clark University in Worcester, Mass., as a freshman while Paul begins a Ph.D. program in cellular biology at the University of Massachusetts Medical School. But like their literary alter ego, the brothers have faith. "At this point, we're just waiting for the next crazy offer," says Paul. "If someone wants us to
play at a bowling alley, we're so there!" –Michelle Kung