New "Extra" Footage from Goblet of Fire Online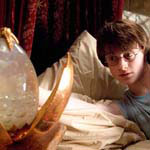 Aug 12, 2005
Uncategorized
The "Extra" Tv show with the preview of the Goblet of Fire film is now airing on certain stations here in the states. This editor just caught the tail end of the Harry Potter part. There were new shots of the second task (including a very cool shot of backflip out of the water), of Cho, the merpeople, the dragons, Mad-eye Moody!, the maze, the Beauxbatons,hooded people marching through the chaos at the burning QWC camp, some very cool music, and graphics written on the clips, which looked as though these scenes were taken from a new trailer. We will update with more as soon as we can.
Update: Extra has now posted the footage online here-Check it out!
Update 2: Thanks to Milly, the 4.5MB, 48 second QT movie is right here (remember to right click and "save as")!
Update 3: Thanks again to the ever amazing Milly, there are now screencaps up in the Galleries-here. Enjoy!