Stephen Fry HBP Audio Book Clip Online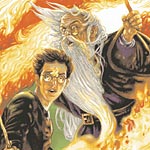 Aug 17, 2005
Uncategorized
Bloomsbury has put up a teaser clip of the Stephen Fry version of the audio book of Harry Potter and the Half-Blood Prince, available by clicking here (rememeber to "save as"). The audio book will be released on August 22. From the press release:
"Sometimes [there is] a turn of phrase that makes me think well that sounds like a Cockney or that's an older character or that's a younger character…' Luckily he felt that Hagrid was West Country, as JK Rowling says 'that was the only character I felt protective about accent-wise.' And otherwise, Stephen says, 'the sound engineer very kindly has an indexed CD to remind me.' "

JK Rowling describes Stephen's reading as 'though someone you know well is reading to you and that person happens to be talented at voices but [doesn't] form a big barrier between the listener and the story.' Stephen says about reading the Harry Potter books 'It's the perfect thing to read. If I was told I was going to have to do a series of big novels I might have thought at first maybe Trollope or the complete Jane Austen but I don't think I would have got a tenth as much pleasure.'
Their press release also features facts about the 21 hours you'll spend listening to the book: for instance, as it says in the Bloomsbury newsletter, in the same time you can run the men's 100 metres world record 7700 times.
Bloomsbury's offering the CDs at £20 and the tapes at £17 off here. You can also buy them via the Cauldron Shop for £26 and £22 off their prices, here