PotterCast #4 Now Available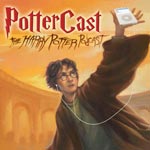 Sep 13, 2005
Uncategorized
size="-1″>About/Listen Episodes Call Vote for us!

It's that time of the week again! On PotterCast #4, we bring you a preview of the three-part Matt Lewis (Neville Longbottom) interview that will start next week; Chris Rankin joins the modcast; a clip of an interview with Chris Columbus, director of the first two Harry Potter films; the Lexicon's Steve Vander Ark chats about book six, the site and more; we bring you the results of our impersonations contest (go here to vote on the winner!), and much more.
The easiest way to hear these podcasts is to subscribe to them (so you don't have to ferret out the link each week). We find the easiest service to use to do this to be iTunes (one of my favorite features is that it saves your spot on the podcast if you pause in listening); you can get help for using it right here. Subscribing is also a great way to offer support for the show.
If you already have or want to use iTunes, the link to our listing is here.
If our new episode isn't showing up in your listing (though it should within the hour), hit "Update this Podcast" and the download should begin. Visit PotterCast.com for show notes, and more. Enjoy, guys!