New Trailer on UK TV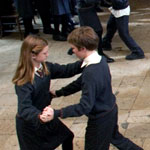 Sep 16, 2005
Uncategorized
This morning GMTV showed different GoF trailers on Sky News and the UK Show GMTV. If you manage to catch this and can digitize it, please contact us.
UPDATE: That trailer, which is almost entirely new footage, is here (if it doesn't come right up then scroll down and click the GoF image on the left). Thanks to Don S!
UPDATE 2: HPANA has uncovered another link to a high-res version: High-res WMV
Click below for more about what's different.
There's more of the Beauzbaton appearance, Harry in the maze, Ron talking about the Beauxbatons girls, Death Eaters appearing (probably graveyard scene), Ron joking with Seamus until McGonagall asks him to dance; Hermione saying she's scared for Harry and that wining the tournament isn't the point anymore; the World Cup stadium and Cedric, before he gets killed, saying "Who are you?"
Thanks to Stephen and Sophie!