Potter/MuggleCast Special Episode (2) Now Available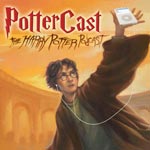 Sep 16, 2005
Uncategorized
The second special episode between Leaky's PotterCast and MuggleNet's MuggleCast is now available for download (and John Noe's on this one). In this episode:
-We discuss our thoughts on the new Goblet of Fire trailer
-Andrew's lesson of the day: never post articles to AOL unless you've tested them first
-We put to bed several questions that rose up after viewers saw the trailer
-Michael Gambon — a good Dumbledore?
-The trivia contest IS on between MuggleNet and Leaky
-A MuggleCast listener runs into Emerson at Notre Dame while listening to the show
-Melissa is dating Ben, Barty Crouch Sr, and John
-…Kevin is upset
-Melissa speaks out for the first time about Harry/Hermione shippers
-A BIG announcement about a certain event after the GOF premiere
A PotterCast discussion is going on in our forum right here.
Update your usual podcatcher to download the episode; if you're using iTunes and we don't yet show up on our listing (though we will within the hour) just hit "Update this Podcast." If you need help subscribing, visit our tutorial for using iTunes, which we recommend. If you have iTunes already, just use this link. If you're unable to subscribe, the direct download link is right here.
HUUUUGE thanks to Streamload.com and Andrew for editing this huge thing. Thank you!
Enjoy!