New Interviews with Pattinson and Leung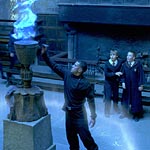 Sep 23, 2005
Uncategorized
Virgin.net has posted two new Goblet of Fire related interviews with Robert Pattinson (Cedric Diggory) and Katie Leung (Cho Chang). In the interview with Robert Pattinson, they discuss such topics as being in a huge production such as the Potter films, and what was required of the young actor in this new movie.
VN: "Did you find your role in Harry Potter physically demanding?"

Robert Pattinson: "Bits of it. It's a very physical part, the stuff in the maze which was done in the beginning was all on huge action sets. The hedges were huge and hydraulically operated. I got hit by stuff, getting pulled around by ropes, and Dan and I were running around punching each other so it was kind of vicious! There was a lot of underwater stuff which I quite liked, it got therapeutic after a while. I had never scuba dived before and the tank they taught us in was a little bath tub. The real thing was massive, like 60 feet deep and they expect you to just get in and act."
In the second interview with Katie Leung, the topics range from how she got the part as Cho Chang to her outfit for the premiere and oh yes, even…kissing.

VN: How does it feel to be Harry Potter's first kiss?

Katie Leung: "It feels great! I feel even luckier and appreciative to have got this role because so many girls would do anything to be in my position. The scenes where he's gazing at me form afar were really fun to film because you had to give him this look and tease him. I had to do a lot of looking back to make him think he's got a chance when really he hasn't because I have a boyfriend."

VN: Who do you think your character Cho would choose out of Cedric and Harry?

Katie Leung: "I think Cho would go with Cedric as she was really loyal in the book. Harry's really famous in Hogwarts and he plucked up the courage to ask her to the ball but she didn't want to be unfaithful so she turned him down in the end. I think she's a really nice person so Cedric would be her choice. "
Thanks guys!