PotterCast #3 Now Available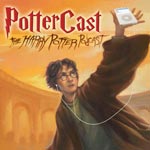 Sep 06, 2005
Uncategorized
Listen/Subscribe / Call in/contact / Leave voicemail
PotterCast Show #3 is up and available – on this show, Lori Damarell, otherwise known as Asphodel Wormwood, interviews LeakyLounge.com member kyrane, while on the modcast, we have an unprecedented three of our staff guys turn up. John Noe displays exactly why we trust his designing over his Harry Potter trivia, while Kim and the rest of the mods wonder if they'll have a job after they finish guffawing their way through the segment! They also shoehorn in some good theory discussion.
Our "In the Know" segment features Daniel Ward, a reporter who saw "Harry Potter and the Goblet of Fire" and dishes on all the details: voldemort, pettigrew, mad eye moody, rita skeeter, romantic shipping, and more. He promises it'll be the best Potter film yet. (His full review is here.)
On our Extendable Ears segment, we hear from Alfonso Cuaron, the director of the third harry potter film, in a clip in which he speaks about the transition from "A Little Princess" to "Potter," and what it was like to work with the actors in the film.
At the end of the show, we share details on our Harry Potter impressions contest.
For those of you using iTunes, it can take a short while for our listing to show up automatically; you can hit "Update this Podcast" and the download should begin.
If you need help subscribing, click here for a tutorial!
(The "In the Know" segment is now added into the file; apologies for it being omitted at first. If you've already downloaded, simply erase the file and download again. In iTunes, hit unsubscribe and then resubscribe, and it'll sort out.)