J.K. Rowling: Announces Digital Harry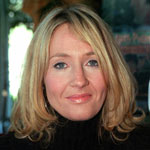 Sep 07, 2005
Uncategorized
J.K.Rowling has updated her website with a statement about the release of the Harry Potter books on iTunes. She writes:
"Today sees a new Harry Potter launch: audio digital files are now available through Apple iTunes in the US, Europe and Japan (English language)!

Many Harry Potter fans have been keen for digital access for a while, but the deciding factor for me in authorising this new version is that it will help combat the growing incidents of piracy in this area. There have been a number of incidents where fans have stumbled upon unauthorised files believing them to be genuine and, quite apart from the fact that they are illegal, the Harry Potter content of these can bear very little resemblance to anything I've ever written!