PotterCast #3 Transcript, Contest Deadline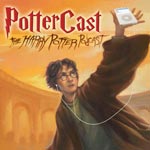 Sep 09, 2005
Uncategorized
The transcript for PotterCast 3 is now up! Thanks again to our Transcription Elves, this time Pascal, Naomi, Rachel and Teresa. If you'd like to join the transcription team, email [email protected].
A quick reminder of what you can find inside if you haven't yet listened to this week's show: A reporter who has seen GoF tells us that there's a trio love triangle (you heard that right, shippers…), all about Voldemort, Pettigrew, and why he thinks this film will break all previous records. Alfonso Cuaron talks about the trio and his directing work previous to Potter. We answer your questions about Harry's life after Voldemort. John Noe demonstrates why he's a designer and not an HP trivia mastermind. And more. So, visit PotterCast for all your subscription links; if you use iTunes or want to, just click here.
On PotterCast 4, coming Tuesday, Chris Rankin joins the ModCast; we have an excellent chat with Lexicon guru Steve Vander Ark and we'll also be bringing you the first round of results of our…drumroll please…impersonations contest! Today is the last day to submit impersonations so here's how you do it:
Pick a quote from the books or films and send us a voice mail. You can do this by:

1. Sending us an .mp3 or .wav of your voice at [email protected]
2. Leaving us a voicemail by calling 1.425.29.62445 (1.425.29.MAGIK) in the US or +020.7193.2872 in the UK.
3. Getting our voicemail (for free) via Skype at username PotterCast.

Your voicmail must include only these things: Your name, where you're from, which character you'll be imitating, and the impression. The impression itself must be 10 seconds or less. We will post the top 20 impressions on the next PotterCast, and then readers will vote for the winner, who will receive a prize from our Cauldron Shop.
And check it out – we changed our cover art again – last time, we promise! John Noe strikes again with a great design.