Jim Dale Named Children's Audiobook Narrator of the Year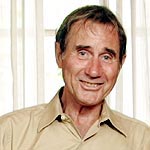 Jan 11, 2006
Uncategorized
Publisher's Weekly has named Jim Dale, narrator of the US Harry Potter audiobooks, Children's Audiobook Narrator of the Year. In a short question and answer article in that publication's January 2 issue, Mr. Dale discusses winning a GRAMMY award, what he most enjoys about recording audiobooks, and several of his upcoming projects, including his return to Broadway in the New York Roundabout's production of The Threepenny Opera, which opens in April. HP quotage:
"Each new book is a whole new adventure, and the reader enters Harry's world raring to go, and so should the narrator. He must bring all the excitement and thrill to the listener to appreciate as the reader would. It also helps to have a great book to narrate."
Congratulations to Mr. Dale, and thanks very much to Sarah!