Exclusive Interview with Brendan Gleeson!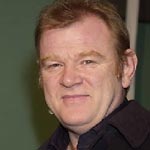 Jan 13, 2006
Uncategorized
Leaky reader Catherine from Dublin was kind enough to send us an exclusive report, including a short interview with Brendan Gleeson, from the red carpet premiere of "Breakfast on Pluto," which took place in Dublin this week. Mr. Gleeson (Mad-Eye Moody) and Ralph Fiennes (Lord Voldemort) were among the celebrities attending the event, which was a fundraiser for UNICEF. To read Catherine's report and interview, see below.
By Catherine FitzGerald, in Ireland
Gleeson and Fiennes support Breakfast on Pluto for UNICEF:
In November we brought you news of Brendan Gleeson's support for the Chernobyl Children's Project International charity.
Last night in Dublin Ralph Fiennes (Voldemort) and Brendan Gleeson (Mad-eye Moody) joined many celebrities on the red carpet for the Irish Premier[sic] of "Breakfast on Plutoâ€, Neil Jordan's Latest Film. Fiennes, in town to rehearse Brian Friel's "Faithealerâ€, Bono, Shane McGowan, the Director and cast, including Gleeson, Cillian Murphy (Crane & the Crow in Batman Begins), and Stephen Rae celebrated the opening of the film in true style — by raising over 100,000 euro for the United Nations Children's charity Unicef.
"This is not The Crying Game.†— Jordan (the Director) was at pains to emphasise to the press – although it has some elements in common with his earlier film.
Breakfast on Pluto is a grown-up film about innocence. This very funny, sad and utterly convincing film even casts the birds! (The gossiping Robins have subtitles!). "It was the best experience of my life,†said Negga, the Irish actress who plays Charlie, Kitten's best friend.
Gleeson, wearing a purple shirt matching the film colours and the balloons decorating the Foyer for the premier, has one of the most hilarious scenes in this year's cinema.
"What's it like to play a Womble, Brendan?â€
(UK and Irish children since the 70s know the wombles as the long-eared, pointy-nosed inhabitants of burrows under Wimbledon Common in London who reuse and recycle the things that we leave behind in the park.)
Patrick "Kitten†Braden, (Murphy), is jolted awake after a night spent in a children's playhouse by a very large Womble in tartan (Gleeson) demanding, "Are you here for the job?â€
"Well, you know,†laughs Gleeson, "everybody's should be a womble in their life (once). They had a big suit. You know — it's gotta be done!â€
Not many actors can give a convincing womble dance lesson
"— You're not hopping right!†he roars in the film. And Brendan Gleeson as a very large, angry womble chasing the boss with a croquet mallet and serious intent is a screen memory to be cherished by anyone who has ever had a hard day at work!
"What was Beowulf like to shoot?â€
"Very different. It's Stop Motion (technology). They give you this big suit,†Gleeson chuckles, – he's been doing a lot of suits lately, "like a big baby grow and shoot you in a studio from all angles. It's like theatre, black box theatre. You do it in one take and they shoot you in 360 degrees.â€
"So you don't really know what it'll look like?â€
"Yeah, it's in production, it's coming out in 2 yearsâ€
In November I had asked Gleeson, "You've written plays (for the Passion Machine) — do you miss the stage?â€
"I went back and acted on the stage a while ago — just to see I could — but you know? I REALLY like what I do.â€
Breakfast on Pluto is a wonderful movie. It was magical to see such a special film raise funds for a wonderful children's charity. As Gleeson joined the rest of the cast, grinning from ear to ear, and lined up on stage behind Jordan, it was the easiest thing in the world to wish them well.
By Catherine FitzGerald, Dublin, 12th January 2006