Harry Potter and the Half-Blood Prince to be Released in Paperback July 25 in US, Canada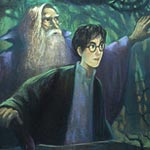 Jan 18, 2006
Uncategorized
Scholastic, the American publishers of Harry Potter, announced this morning, in a release sent to TLC, that the American edition of Harry Potter and the Half-Blood Prince will come out in paperback on July 25, 2006. This 2 million-book print run will bring the total number of all six Harry Potter books in print in the U.S. to over 120 million. HP books are now available in 63 countries; there are more than 300 million of them in print.
The book will retail at $9.99 at 672 pages.
Update: Raincoast has let us know that the release date for the the book in Canada will also be July 25. As previously reported, the book will be available in the UK in paperback on June 23.