Potter Actors Receive Olivier Award Nominations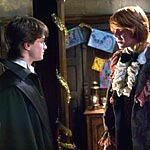 Jan 18, 2006
Uncategorized
Three Harry Potter cast members have been nominated for Laurence Olivier Awards, the most prestigious theater awards in the U.K. Richard Griffiths (Vernon Dursley) received a nomination for Best Actor in a Play for Heroes, which was also nominated for Best Play. David Bradley (Argus Filch) was nominated for Best Actor in a Supporting Role for Henry IV – Parts I & II. Julie Walters (Molly Weasley) received a nomination for Best Actress in a Musical for Acorn Antiques — the Musical! The entire list of nominees may be seen here. Winners will be announced during a "star-studded" ceremony on February 26.
Congratulations to Mr. Griffiths, Mr. Bradley and Ms. Walters!
UPDATE:Reader Bianca pointed out to us that My name is Rachel Corrie, directed and co-written by Alan Rickman, has been nominated for Outstanding Achievement in an Affiliate Theatre.