Harry Potter Scholars' Conference to be Held in Copenhagen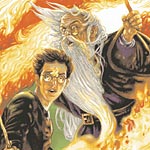 Jan 22, 2006
Uncategorized
The Patronus 2006 conference will be held in Copenhagen, Denmark from July 7-9, 2006 at the University of Copenhagen. The conference will be hosted by the independent organization Patronus in cooperation with the Department of English, Germanic and Romance Studies at the University of Copenhagen and the Danish Harry Potter Society. The purpose of the conference is to bring together fans and academics from all over the world to discuss aspects of the Harry Potter books, their author and fans. Patronus 2006 is open to all interested parties over the age of eighteen. The conference language is English. The conference is the second HP conference to be held in Europe, following the successful Accio 2005 conference in Reading, England. For more information, including registration information, see below.
Thanks to Conference Chair Hannah Westberg for asking us to spread the word!
Registration
Registration is required. The registration form is available on the website for Patronus 2006 – along with additional information here.
For the fast fan there is the option for an early bird discount if you register before 1st February 2006.
Pre-conference
In the days leading up to the conference, Patronus also offers a residential course aimed at a more in-depth examination of some aspects of the world of Harry Potter. The theme for the residential course is "Gender and Relationship in Harry Potter," but the discussions will not necessarily be limited to this subject.
Registration is also required for the residential course, which has a limited number of attendees. As for the conference, further information as well as the registration form is found on the website.
Call for papers
We accept papers in the form of written abstracts with the deadline being 15 February. Abstracts may be submitted after this date and will be considered if there are still slots available.
Further information:
Website: www.patronus.dk/2006
Conference chair:
Hannah Westberg
e-mail: [email protected]
+45 3259 5303 / +45 6166 9060
Press secretary:
Kristina Svegaard
e-mail: [email protected]
+45 2728 6059
Mail address:
Patronus
Ungarnsgade 17 st.tv
2300 Copenhagen S
Denmark
The University of Copenhagen, the Danish Harry Potter Society, and the Patronus 2006 conference are not endorsed, sanctioned or any other way supported, directly or indirectly, by Warner Brothers, Scolastic, Bloomsbury, J.K. Rowling and her representatives. The conference fully respects that Harry Potter is J.K. Rowling's property.