Photos, More of JKR in Romania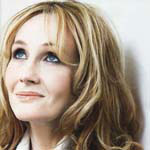 Jan 25, 2006
The first of the photos and information about J.K. Rowling and her trip to Romania are now appearing online. Reuters has this photo of Jo, taken at an opening press confernce in Bucharest. Canadian press has this additional photo, including a brief story on the trip. Jo is scheduled to attend a gala fundraising dinner tonight. She is due to be interviewed for Romanian television, and as we first reported, this will be broadcast on the internet via this link. Stay tuned for more!
Update #1: additional press photos here, and here
Update# 2: Some nice large High Res press photos of Jo at Romanian press conference today:
Jo talking at press conference
Update # 3 Video of Jo arriving in Romania and more is now online. HPANA let us know about this Real Player streaming video clip ( go to around the 44: 56 mark ) from a Romanian newscast where you can see Jo getting off the plane, and making some very brief remarks to the press. There is also a second report (again not in English) where you can seevideo of guests arriving for the gala dinner. Thanks to Jeff from HPANA!