Jo Gives Additional Black Family History for Book Aid Auction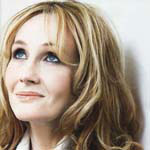 Jan 28, 2006
Uncategorized
Previously we told you that author J.K. Rowling would be donating an item to auction in order to help Book Aid International, a group that helps support literacy in the world's poorest countries. This item was a handwritten paper from JKR. Today, the Daily Telegraph newspaper has a preview of this item. Reader Tony let us know that it is the Black Family Tree, with a portion of the names showing in a photo. Readers will remember of course, that we learned of the tree as it was on the tapestry at Grimmauld Place in Harry Potter and the Order of the Phoenix. Tony writes:
"There are several familiar names visible, including Callidora who married a Harfang Longbottom. Her sister Charis who married Caspar Crouch. Intriguingly there is a Dorea (1920-1977) who married Charles Potter and had one child, a son. The time frame seems to be consistent with them being James' parents. "
He also says there is another listing of a name that is very intriguing to Potter fans "Arcturus Black (1884-1959). " The article goes on to mention these items will be on display Monday, February 20th at 24 Maddox Street London W1. Tickets to this event are £10, with proceeds going to charity. This paper from Jo , along with others, will then be auctioned off the next day. Thanks very much to Bald Tony and Michele for the heads up! Anyone with scans please send them in!
UPDATE: Amoscotia was nice enough to send in the scans, which you can see here, including a close up. Please note that most of the paper is covered up, but you can also make out some other names (Like Phineas Nigellus and his wife). The second page indicates that they expect this family tree page to sell at a very high price.
Thanks very much to Marauding Amoscotia!