Ask Arthur Levine Your Questions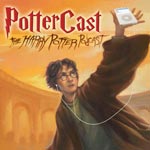 Jan 03, 2006
As mentioned on a previous PotterCast, on Jan. 12 TLC will interview Arthur Levine, co-editor of the Harry Potter books and publisher of the Scholastic (American) edition, and we just can't wait. Part of the interview will consist of fan questions, so if you have one, call (in the U.S.) 1.702.42.LEAKY (1.702.425.3259) or (in the U.K.) +020.7193.2872 and leave us a voice mail. You can also Skype the name PotterCast (which is a good option for those of you not in the U.S. or U.K.; if you have Skype, and a mic on your computer, the call will be free and we'll be able to hear what you say.


We'll be checking them through January 8 – can't wait to hear what you've got to say! The interview will be published on PotterCast this month.
Who's this Arthur Levine person, says the reader who's lived in a cave for seven years? All right:
Arthur A. Levine is the co-editor of the Harry Potter books and publisher of the American editions. He runs Arthur A. Levine Books, an imprint of Scholastic, Inc., and is credited with bringing Harry Potter to America in the late 1990s. Mr. Levine was born in Queens and grew up near New York City. He started his career at G.P. Putnam's Sons in 1984, where his notable work included The Rough-Face Girl by David Shannon; Caldecott winner Officer Buckle and Gloria by Peggy Rathmann, and Caldecott winner Mirette On the High Wire by Emily McCully. Mr. Levine worked at Dial Books for Young Readers and became editor-in-chief of Alfred A. Knopf in 1994, where he edited Philip Pullman's The Golden Compass. He started Arthur A. Levine Books in 1997, and has written several acclaimed picture books including Pearl Moscowitz's Last Stand and All the Lights in the Night. For more information, visit his Web site.