Followup: JKR Signed HBP Book on Ebay for Charity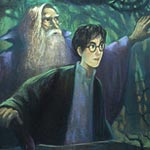 Jan 04, 2006
Uncategorized
A few days ago we told you that author J.K. Rowling had donated a specially signed copy of Harry Potter and the Half-Blood Prince to be auctioned off for the charity Peace Hospice in the UK. The bidding has now started on Ebay, which you can see via this link. This is an autographed first edition of the UK version of Half Blood Prince, and all proceeds from this sale will go toward the charity. In addition, the charity notes:
"J K Rowling has agreed to sign a letter of authenticity and personalise it to the winning bidder, so not only will you own the book but you will have a letter personally addressed to you! "
Bidding ends January 8th.