PotterCast #20, Part 2 of Call-In Show, Now Up!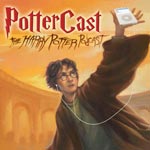 Jan 05, 2006
Uncategorized
PotterCast #20, our second and last installment of our call–in show, is now up and ready for download. Sorry for the delay, guys – bad internet connections strike again! Next week's will be out on time, will be in regular PotterCast format and will feature – da da dum – the Muggle boys. For now, we finish up the results of the call-in show we did on Dec. 10. (The quality's much better this time!):
In this show:
When/how do the cast get to screen the films?
Who could be the second hero of Harry Potter?
The real Marty stands up
What spell killed 12 Muggles?
Dumbledore's greatest fears
"I'm safe, I'm with you – wait, let me dry you off first. OK, now I'm safe."
What's important to keep in the "Order of the Phoenix" film?
A listener's mom vouches for Melissa's driving
How we all found Harry Potter
Normal Harry vs. Superhero Harry – which is better?
Neville and Ollivander
Baby Nora, our youngest guest yet, has her say
Running time: 1:05:47
If you are new to all this podcasting stuff, it's really easy: download and install iTunes, then click here to listen. (There's a tutorial right here.) Everything else is at PotterCast.com – you can also direct download it here, and discussion of the PotterCast is right here. ENJOY!