GoF DVD Extras Announced on BBFC Site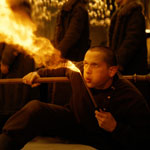 Jan 06, 2006
Uncategorized
The British Board of Film Classification today posted their decisions on extras to be included on the Harry Potter and the Goblet of Fire DVD. Listed as "Full Frame, HARRY POTTER AND THE GOBLET OF FIRE DVD additional material" these included segments are :
14m 11s REFLECTIONS ON THE FOURTH FILM
10m 40s HE WHO MUST NOT BE NAMED
13m 1s MEET THE CHAMPIONS
9m 23s IN TOO DEEP – THE SECOND TASK
6m 30s THE MAZE – THE THIRD TASK
8m 39s PREPARING FOR THE YULE BALL
5m 51s HARRY VS. THE HORNTAIL – THE FIRST TASK
Thanks very much to Alex and Adam for the heads up!