Happy Birthday, Imelda Staunton!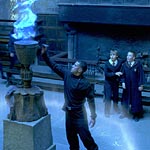 Jan 09, 2006
Posted by Melissa Anelli
Uncategorized
Imelda Staunton, the actress widely rumored — though as yet unconfirmed by WB — to be playing Dolores Umbridge in Harry Potter and the Order of the Phoenix turns 50 today! Happy Birthday, Ms Staunton, and thanks to incubo!