J.K. Rowling Confirms New Children's Book Written; Will Host New Charity Ball in March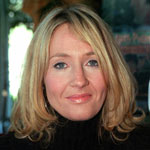 Jan 09, 2006
Uncategorized
In the new interview published in the February edition of Tatler magazine that we told you about below, author J.K. Rowling confirms again that she has written a new children's book and more. In extended excerpts now posted online from the magazine, Jo talks about her writing life post-Potter:
A new children's book is also complete. It is about a monster and is what Rowling calls a "political fairy story". It is aimed at children younger than those who read Harry Potter. "I haven't even told my publisher about this." There are also some short stories already written.
Also, the article says Jo will be hosting a ball at Stirling Castle on March 17th, in order to raise money for the fight against Multiple Sclerosis, a cause near and dear to her . Jo is also a patron of the MS Society of Scotland. This ball is said to feature " a treasure hunt with clues set by her." To read these new quotes including much more about her background and life after gaining fame with the Harry Potter books, click here. The February edition of Tatler magazine goes on sale on Thursday.