Rumor: David Yates to Direct "Half-Blood Prince?"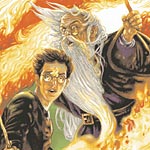 Oct 04, 2006
Uncategorized
Here is another entry in the rumor for the new director for Harry Potter and the Half-Blood Prince category: David Yates. Movies Online is reporting that the current Order of the Phoenix director has been offered the helm of the sixth Potter film. Quotage:
"But I have some news on Harry Potter and The Half-Blood Prince film, I have been informed and confirmed that David Yates director of Harry Potter and the Order of the Phoenix has been asked to return for the next film and is expected to accept.
This news should be revealed very shortly, but I also have been informed that filming for this movie is expected to start in May of 2007, this is two months before the release of Order of the Phoenix. I've been told this is to keep with the kids real life ages compared to there characters ages as much as possible. Half-Blood Prince will be released on November 21st of 2008. "
Please Note: Along with a variety of purported start dates for filming HBP, there have been multiple names for new director floating around on the net in recent days, so please consider this very much a rumor for now. We are trying to confirm and will update with more when we can. Thanks to all who emailed!