Luna's Radish Earrings Designed by Evanna Lynch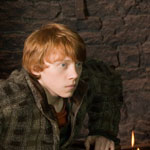 Oct 05, 2006
Uncategorized
Last week we had our first look at official photos from the upcoming Harry Potter and the Order of the Phoenix, including this photo of Evanna Lynch as Luna Lovegood. In the photo she is seen wearing some radish earrings. We can now confirm that Evanna herself designed those radish earrings, proving a what a dedicated (and very cool) fan of the Harry Potter book series she is to bring those kind of details to the movie role of Luna. As mentioned in the latest LeakyMug, she told us on-set that she designed jewelry, but the question of who made the earrings was up in the air when we left, and is now confirmed.
Also, in this photo of the Trio, you can see them standing in a dark room , in front of a dirty old looking fireplace. WB has confirmed to us that the photo is indeed from the Hog's Head Inn at Hogsmeade.

Harry Potter and the Order of the Phoenix will be released next year on July 13, 2007.