Early "Phoenix" Trailer News; To Screen Early This Weekend?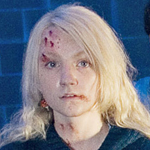 Nov 08, 2006
Uncategorized
Previously we told you that the teaser trailer for Harry Potter and Order of the Phoenix will be shown next week before the movie Happy Feet on Friday, November 17. An early screening of the penquin movie was held this week, and apparently the Phoenix trailer was also shown at this screening. Aint it Cool.com has now posted a report of the screening, and contains mention of the trailer, saying "After a few minutes, the lights were dimmed and the showed the Harry Potter and the Order of the Phoenix trailer, which kicks ass, BTW. Lots of ppl applauded the trailer, including me." Later in the comments this same reviewer also said that the trailer contains a shot of flying through London on brooms, and promised to send in a detailed report of this trailer. We will update with more on this as soon as we can.
Also, many of you have let us know that early screenings of Happy Feet are being held this upcoming weekend in select cities here in the States. We do not know if the trailer for OotP is due to be shown at these screenings which are being held Saturday, November 11, and we will of course update with more on that when we can.
Thanks to Calt, Andy, blah, my Foxy friends, and all who emailed!