Dan Radcliffe Attends AFI Awards in Australia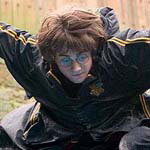 Dec 07, 2006
Uncategorized
Actor Dan Radcliffe attended the Australian Film Industry Awards today. The Age reports the Harry Potter actor "stole the show" as he was met with an "almighty cheer as he arrived to present an award. The actor, who earlier this year shot scenes for the Australian film December Boys around the country, was besieged by teenage female fans who demanded photos and autographs from the happy-to-oblige actor."
Page from DanRadcliffe.co.uk has some video of a red carpet interview with Dan that you can see here and here (Please, remember to right click and 'save as'). Getty also has some photos of the event up now to enjoy via this link.
UPDATE: Jenna from DanRadcliffe.com let us know about some great new video she has as well, here.
Thanks to Jenna and Page!