IGN: Harry Potter #14 Movie Franchise of All Time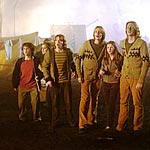 Dec 07, 2006
Uncategorized
Entertainment website powerhouse IGN is running a "Top 25 Movie Franchises of All Time" list, and the Harry Potter movies are now ranked at number fourteen. Factoring in items such as "commercial and artistic successes, as well as their impact on pop culture and how many ancillary items they spawned (videogames, comics, fast food ties etc.), many of the editors weigh in on our favorite film series. Todd Gilchrist, Senior Editor writes:
"While imminently better adaptation franchises are yet to come on our list, Harry Potter is one of the few modern film series that manages to connect the legacy of literary heavyweights like Lord of the Rings with contemporary fantasy storytelling. Like few characters in modern literature, Harry Potter has become an icon of advancing adolescence — no matter if you're a boy or girl, or even an adolescent — and the films in this series have ably preserved that awkwardness and purity of spirit on the silver screen."
Entertainment Editorial Manager Chris Carle addresses the main criticism facing the series and others in the same situation, namely that of translating beloved book to successful film:
Taking a massively successful book franchise and turning it into a movie behemoth doesn't seem like a daunting task, but sating the Potter fans' desire for faith to the story and making everything translate onscreen definitely is. Kudos to Warner Bros. for taking the Potter license and making it every bit as entertaining as the J.K. Rowling novels. Not all of the credit can go to the moviemakers for making the characters popular, but making them believable is every bit as hard.
The number one spot on this list has yet to be announced.