THE NEW LEAKY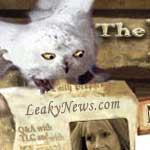 Feb 01, 2006
Uncategorized
WELCOME to the new and very much improved Leaky Cauldron!
We have been absolutely dying to get this version released and out to you (yes, this is the project code named Fiddy Five). We don't even know where to start telling you what's new about it – but we think there are several things you're going to notice right away. So go on and click around, get comfortable, keep your fingers crossed that we don't implode, and then come back here and read some more.
We know there will be bugs. We know there will be errors. We know there will be things we've missed and things you'll find – that's the fun (ha ha, sure) of a redesign. Please bear with us as we iron the kinks, as they say. There's a known one with Macs (yes, grr, I know) that will eventually be fixed; it works better on FireFox than on Safari.
You might have noticed that our address changes to a number, and that our PotterCast feed is not coming up right now; this all has to do with the changeover and the connecting of servers, which will be complete very soon – so just hang tight. Thanks.
So, welcome to the new Leaky, our fifth design. Except, this time, for the first time, it's not a redesign. It's more like a rethink. It's a re-do. It's an entirely new site, designed for development, designed to be fast, designed to be the site you need to carry you through the rest of the books and the movies. This does not mark the end of our work but of the very beginning – this is a tiny bit of what it will eventually include.
For more of that, read our Guide to Leaky Five, which is also linked in the left sidebar. For now, we have some very important people to thank.
These people are some of the most amazing people I've ever had the privilege to work with or know. The amount of work and dedication they have put in over the past months, bringing this to you, rivals anything we should ever expect, and anything we should ever desire. Since they are so wonderful I'm going to take my sweet time thanking them here. I feel nothing but luck that they ended up on Leaky's doorstep.
JOHN NOE. His name is in all caps for a reason, and for once, it's not because I'm getting annoyed at him on PotterCast. No, this entire redo is John's fault. He conceptualized it and brought it to me more than six months ago. The amount of work he has put into this, and the number of brilliant…stuff…(because really, how else do we characterize what goes on in John Noe's head?) he's done since have been overwhelming. The last design was John Noe's entree to Leaky; he e-mailed us with it one night and instantly became a staff member and our new designer. I'd be lying if I said I wasn't very proud to see him show what he's capable of two years later.
NICK POULDEN. When Nick Poulden joined staff as a programmer, we all through he was pretty smart. Now we know he's somewhere in the Weird Crazy Genius category. He recoded this entire site – he started everything from scratch, started with a completely blank slate. And the results – well, you can click around and discover the results. This site is coded using some of the newest techniques out there, all of which Nick had already mastered, because he has been able to modify them. He has bent them to his will! All we ever had to say to Nick was, "I'd like to do X Y and Z," and he'd say, "All right." No, "That's not possible," no, "You're insane, lady," no, "What?" Just a constant stream of, "Of course we can do that"s. It's been amazing.
Alex Robbin. He used to just bother us and ask if he could do anything to help Leaky – honestly, we all thought he was sort of annoying, and too young. But, like every one of the integral people on this site, he started making his talents known whether we liked it or not – and he has become one of this site's very best friends. This update would Not. Be. Possible. without the sweat he's put into it over recent weeks. Even as this thank-you is being written, he is off doing last minute bugs, coding last-minute things. You can't find people like this – they usually come knocking on your door. Alex nearly battered ours down, but we're so glad he did.
Doris Herrmann. You'll hear more about this lady soon, which is why I'm not saying much – you can visit the About Us page for more. She is our new Project Coordinator, and she was VITAL to getting this off the ground.
Heather Campbell. Leaky's newest designer, she worked to our deadlines like a champ and put up with all our nitpicking like she's been doing it for years. Her art is everywhere on this site, and will be in more places soon.
Sue Upton and Julie Tynion. These ladies wrote so much new content – all for your finding, all around the site – and all under deadline, all while doing the proper research and all with such cheer, that we're amazed. They will be spearheading your new newsletter, Owl Post, and they will be adding a lot more content to the site very soon. And they always do so with a smile.
Kim M. Parker. She's not just everyone's last name (listen to PotterCast to get that one) – she's also been a terrific resource, organizing a lot of staff and a lot of information, and being an extra pair of eyes and hands when we've needed it most.
DH at Idologic – for putting up with so much, all the time.
Nick Rhein, for controlling the madness in the forum while this has been going on, and for helping get running what we'll all soon know as Scribbulus…
To the PotterCast forum at Leaky Lounge – for enjoying the heck out of the teasing we've done for the past two weeks. You've made all the stress manageable (and given us almost 5,000 posts to read). Thanks.The Floo Team. They were very patient while we were all sucked up by this.
And to a ton of people on our forums, our elves, and a lot of other helpers who did odd jobs whenever they came up: Kyrane, Trozam, Memyslfni, KimmyBlair, sunny_elf, Jackdoor, Chelikins, Julie, Tanaqui, LisaQQQ, Lexcion_Bel~, Cncrpl, Anguinea, Asphodel Wormwood, Kelazma, Guru of Sloth, Hpaddict, minime, Lilly, Mr. Internet, Ask Jeeves, The MuggleBoys (Andrew, Ben, Kevin, Micah and company, for putting up with a LOT of our teasing, and for offering us great moral support), Joseph (for modeling for the "kissy face Harry"), Peeves, the Chipotle people, Starbucks, Sirius Black, and St. Mungo's, for lending us all those stress-relieving potions. Ahh.
Well, that's it from the podium. We hope you enjoy this. It took…well it took all these people and more many months to create. We hope you enjoy it for a lot longer than that.